Fifteen miles each way, back seat filled with greenware (Mondays & Fridays),
and bisqueware (Wednesdays and Saturdays) for the last two weeks. One more week to go - I hope...
Now that they can see what the final outcome looks like, the students are a little more motivated. Here's a taste of their work...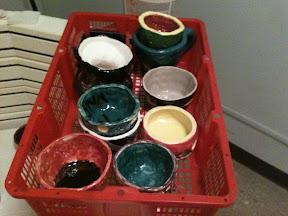 (glaze samples)
I decided to use their Christmas ornaments (which they didn't want to glaze) for "coasters" to keep the glaze off the shelves. It worked great. I will post some more (clearer, individual pictures) later today.
Next year I will be attempting to build a small wood kiln on the high school campus. I will need simple plans for something about 10 cf in size. If anyone would like to help with some simple plans - something the students can help build, I would greatly appreciate it.
The fun part will be getting the bricks needed. Guess it's time to start grant hunting. Will post more pics later.
Happy Mudding!
Location:Chln Inifok,Yigo,Guam