Last post I showed pics of the pottery I entered in the show, and completely ignored the 2D pieces that I also entered. Just in case you like that sort of thing, here are some photos of my block prints on rice paper and my acrylic painting (sold yesterday!).
"Hibiscus I"
"Hibiscus II"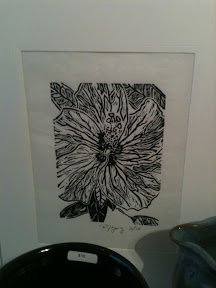 "Haliconia"
"Mango Season"
16"x24" "A Day at the Beach"
Hope you enjoyed the photos (even though they are from the phone)... now I have to paint another "Day at the Beach" for the wife. Fun, fun, fun...
- Posted using BlogPress from my iPhone